I am regularly contacted by people in industry, who are looking to make a career change and go for partner, for advice on how to demonstrate a business case. They may have been in practice at some point in their career, but what they lack is the evidence for their business case that they can easily create a client following. However most firm's want to know in your business case how you will bring in new clients.
In this blog post I share three tips to help you build a strong business case even if you have no track record of selling from your career in industry.
Click here to download my free guide to creating a cast-iron business case for partnership. (email required)
1. How to evidence your ability to sell when you have never had to sell services to clients
If you haven't had to sell to people outside of your organisation then you can't just magic up evidence that you will be able to attract and convert the right type of clients for the firm. What you can do is recall examples of when you have had to be persuasive and influence people, inside and outside of your organisation, to follow a course of action. If you have been, for example, the General Counsel or Finance Director then you will be persuading people in your organisation on a daily basis.
2. Build your network of potential buyers at least 12 months before you plan to move
One of the benefits to firms of bringing in lateral hires at partner level from industry is their network of contacts through their industry. Therefore in the 12-24 months before you plan to make the move into practice focus on building up a very strong network of contacts. These contacts should be people who have the authority to buy or are highly influential in the buying process for your potential firm's services both inside and outside of your firm.
3. Build up your brand as a Go-To Expert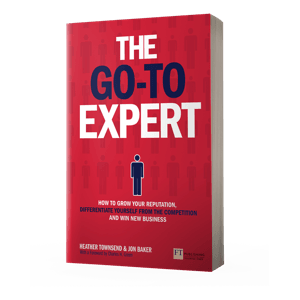 You can still be a Go-To Expert without having to sell your services. Ideally before you start to actively seek out a partner role you will have spent time in growing your own profile outside of your own organisation.  Up until now you have probably shunned many opportunities to speak at industry conferences and be quoted by journalists. In the nicest possible sense you need to grab every opportunity you can to build your profile in the press and at large industry events. You will be surprised at exactly how many conference organisations will bite your hand off for you, as a non-consultant with nothing to sell, to come and speak for expenses only.  In addition to seeking out speaking opportunities, start using LinkedIn to publish your own articles. For help to build up your brand as a Go-To Expert, I recommend you grab a copy of The Go-To Expert (over 30 five star reviews on Amazon).
Click here to download my free guide to creating a cast-iron business case for partnership. (email required)