I was in all sorts of pain – and I'd only been sitting on the erg for 5 mins. (Erg = rowing machine)
This wasn't good…
And I shortly gave up, 4 minutes short of my target of 10 mins on the erg.
The thing was, I knew I was unfit. I also knew that I couldn't expect to be pulling the same times I was 10 years ago, when I was very fit. So, I set off on my planned 10 mins erg, knowing it was more about the journey, and getting there, rather than getting there by a certain time.
Unfortunately, I set off too hard and too fast, being more concerned about how quickly I could get there.
And, I failed. Spectacularly.
So, the next day, I decided to learn from my mistakes. I deliberately turned down the gearing on the erg, and set a pace I knew I could do for 10 minutes. Surprisingly, by the end of it, I knew I had enough juice left on the tank to take up the pace at the end. Yes, the distance and pace I pulled on the erg wouldn't have got me into any rowing teams, but at least I did it. On reflection, I probably, went faster and harder overall than if I had been able to continue my erg the other day.
So, what's the lessons for you and going for partnership?
1) Pace yourself – if you go too hard, or too fast, you'll burn out before you reach your goal. Therefore, set realistic targets for how much business development activity, and leadership responsibilities you will do and take on, compared to your chargeable hours target. Doing 16 hour days is only possible for a short period of time.
2) Save at least 10% of your capacity for the end, or unexpected peaks in work. There will always be times, I.e. when a deal is on, that you will need to be working flat out. However, always make sure you have recharge time planned in after working flat out. Your body will need it.
3) Don't give up. If you have been knocked back once – perhaps you have already tried for partnership but not been admitted – learn from your mistake, and come back stronger and fitter next time.
Are you just tired or are you burning out? Find out by clicking here to take our burnout self-assessment. (email required)
For a copy of our weekly planner, from our free career kitbag, to help you pace yourself and not try to take on too much in one week, click here.
Author Credit: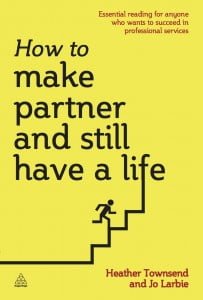 Written by Heather Townsend. I help professionals become the 'Go To Expert'. I am the co-author of 'How to make partner and still have a life' and the author of the award-winning and bestselling book on Networking, 'The FT Guide To Business Networking'.
To find out whether I can help you, have a look at "our services"
Connect with me on Google+, LinkedIn and Twitter
Are you just tired or are you burning out? Find out by clicking here to take our burnout self-assessment. (email required)