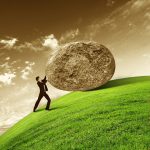 With most people back at work this week, I thought it would be a good time to mention the 'R' word. Yes, resolutions. Whether or not you made any this year is up to you. However, if you did make any career resolutions, or were pondering about it, here are 5 career resolutions that everyone should make this year
1. Follow your passion and play to your strengths
If you were asked to take a significant pay cut, would you still do what you do? I know, you have bills to pay and need to keep a roof over your head. However, do you look forward to coming to work most days? Are you proud of what you do?
If not, why not?
We spend most of our working hours at work. Therefore, surely you owe it to yourself to spend these hours doing something which you are passionate about and makes you happy? Whilst my income is nowhere near to what I used to earn, I'm 100% fulfilled by what I do. I love being my own boss and working with such a great group of clients.
When you play to your strengths everything becomes so much easier. Seriously. If you are not playing to your strengths, then you are wasting so much effort which you could be using on something else. If you are going to move your career forward this year you need to make sure that you passionate about what you do AND are playing to your strengths. If you can do, ditch or delegate the stuff which isn't what you are suited too.
2. Benchmark your own career progress on your own goals and performance
Far too often I hear professionals, particularly young, ambitious lawyers, accountants and consultants benchmarking their performance and career progress on others. You can't control what others do, so it is not healthy to be continually comparing yourself to others. In fact when you do start comparing yourself to others this can lead to non-productive behaviour and self-limiting beliefs. The only comparison you need to make is whether you are progressing against the goals and career plan you have set yourself.
3. Invest in your own career and development
I've noticed that people who take charge of their career and achieve their career goals often have a belief that it is their responsibility to invest in their own development. Interestingly the small business community also subscribes to the belief that they need to pay and invest in their own skill set. However, why do so many professionals in practice assume that it is their firm's responsibility to pay for their development?
I remember from my days in corporate life waiting on 2 employers to do some technical professional development. It was never forthcoming. It made me feel under-valued and unwanted. With what I know now, I should have just got on with it and paid my own way. Therefore, don't make the same mistakes I made. It's your career and your career development. What do you need to do to invest in yourself to help you become successful and fulfilled at work?
4. Look after yourself
It's ironic that as I write this I am still trying to kick a pesky ear infection into touch. It doesn't matter how good you are at work, or how much you want to achieve, if you don't have you health, then it is not worth one jot. Therefore, before you fling yourself into work, take some time to decide on how to look after yourself that little bit better in 2014. Could you add in a 10 minute walk daily? Could you reduce your alcohol intake just a little? It's often only small things that we need to do to increase our physical and mental well-being.
5. Nurture your network
OK, I did write the book… (The FT Guide To Business Networking) but make 2014 the year when you nurture your network. Your network is something that becomes an asset that no-one can strip away from you. No employer can claim your network. As well as being the best source of new client referrals, your network will help you achieve all your goals. Who can you spend time with next week to help strengthen the relationships with the people around you who want to help you succeed? What are your career resolutions for 2014?