Visualise yourself working the room…. How many people are you meeting at the event? 5, 10, 15 or more? Do you find it hard to memorise people's names? It's acutely embarrassing to forget someone's name – and how many of us feel we are good at remembering names? In fact, forgetting people names at networking event is a real fear for many individuals, business people and professionals in general and actually a skill which should be learnt by all.
So, here are my 7 simple tips to help you remember people's names:
1. Use their name
After you have met someone, aim to use their name a couple of times whilst speaking with them. For example:
Good to meet you, Simon. What have you found useful so far about this event, Simon?
Read this blog post to help others memorise your name.
2. Don't be afraid to repeat it
If you don't hear the name properly or clearly, for example if the room is noisy, then do ask them to repeat it.  There is nothing to be afraid of asking for it to be repeated.
3. Make an association
As you meet someone, you should make an association with them and their name. For example:
Suzy had an amazing orange handbag
Tall Raj was due to get married
Fiona with the quiet voice
Mike, the serious rugby playing accountant
Click here to download your FREE networking plan (email required) taken from the bestselling and award-winning book "The Financial Times Guide To Business Networking". 
4. Further details
After you have finished meeting them, write on their business card any additional details about them that will remind you who they are.
5. Be positive
Stop telling yourself how bad you are at remembering names. I used to think I was terrible at remembering peoples names – however it wasn't not because I was, but due to being a trainer and literally meeting hundreds of new people in a week. Inevitably, there were always going to be a few people I would meet months later who I would struggle to recall their name. If you tell yourself that you are good at recalling names – and use all of these techniques in this blog post you will get instantly better at remembering names.
6. Don't stress
If you have forgotten someone's name, the sooner you raise it, the less embarrassing it gets. You may discover that they have forgotten your name as well!  Such as:
"I'm really sorry, but I've forgotten your name, would you mind repeating it?"
7. Double check
Names which are not from our native language are hard to remember. Check you have the pronunciation right – this will have two benefits. Firstly, you get to say the name a few times, and secondly you make sure you get their name right.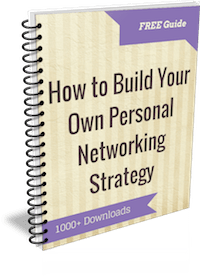 To help you get the most out of your networking time and effort, download our free guide to building your personal networking strategy and our joined up networking tool-kit. (email required) [/box]
What are your personal tips for recalling names?
---
Author Credit:

Written by Heather Townsend. I help professionals become the 'Go To Expert'. I am the co-author of 'How to make partner and still have a life' and the author of the award-winning and bestselling book on Networking, 'The FT Guide To Business Networking'.
To find out whether I can help you read 'is this you'
Connect with me on Google+, LinkedIn and Twitter