What's worst than winning a juicy piece of work? Realising you don't have a team of people who you can reliably delegate down to and trust that they will deliver to the required standard in the time you have allocated…
So, what can you do to build that team around you? In the last part of the 2 part blog post, we explore the last four tips to build up a team which you can rely on and trust. (first part here)
4. Spend time 1:2:1 with each team member
This may not always be possible to do when you are a rapidly formed team with a short-term brief. However, you will get the most out of your team members if you give them the gift of your time. In an environment where everyone is watching the clock and recording where their time is spent, people really relish an opportunity to spend time with more senior members of the team. When you are having this 1:2:1 (and make sure it is a recurring event)  find out more about them, i.e. what makes them tick, what they want to achieve in this role, what they like doing outside of work, what you can do to help them advance their career, how they are RIGHT now?
5. Provide direction and a framework to work towards
All of your team members will operate and work differently. However, your role as a team leader is to be explicit about what you want and need from them, and by when. If you can, allow them the freedom to choose the 'how' they get things done (although specific parameters still need to be met).
6. Show your human side
Like you I've worked for many people in my career. For the ones that I have respected the most, I have worked the hardest. So, what has gained my respect? It's not the professional accolades they have amassed – but whether I can relate to them as a person. Your team need to feel an emotional connection to you. Be real with them – if you are having a bad day, let them know. If you are having a good day, also let them know. There is nothing worse than a team sensing you are in a bad mood and wondering who or what caused it!
7. Communicate, communicate, communicate
Good communication underpins every great team. Make sure you have regular updates scheduled in your diary with the team. These don't need to be long war and peace affairs, a 5 min daily team catch up via a conference call can often work better than a 2 hours drawn out affair. (Particularly if your team members reside in different locations) Have a standard team agenda and stick to it.
[box title="FREE Guides and Tools for you" box_color="#9f9bb2″]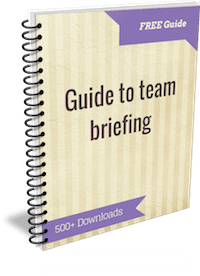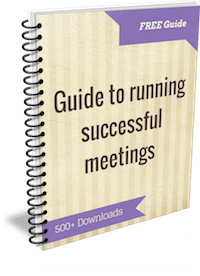 You may find our FREE tips for briefing a team and running a meeting useful, to get your communicate right with your team. [/box]
What tips would you add to this list?