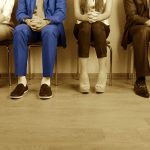 This was a great question that I received in my inbox from someone who has recently signed up for my career kitbag. Here was my answer:
I don't think that there is a definitive answer to that question. It all depends on your firm and your own career aspirations. Your aim ideally needs to be to be made up to partner by the time you are 50. (Only about 10 years ago, this age was 40 rather than 50) Whilst, there are still people who become partner in their 50s, the vast majority make it before they are 50. See this post for why your age does matter
Let's look at it from the firm angle. For them to make you up to partner, the following conditions have to exist:
1) There is a business case for a new partner. This could be because of a retiring partner or a partner has left the partnership. Or it could be that a department, office or practice area is growing sufficiently to need a new partner.
2) There needs to be a good match in your personal case to what the partnership needs from its new partners. What this means is that you fulfil the criteria for partnership.
Now there still may be a good match with your personal and business case for partnership, but you still get passed over. This could be because there are better candidates ahead of you, or some of the partners have voted against you. Therefore, you may need to spend time building your fan base amongst the partners. If you have been passed over for partnership a few times, then this is probably a sign that you will probably never make it to partnership in this firm.
Therefore, in summary, have some honest conversations with your partners about when they think you will get to partner, and what you need to do to demonstrate you deserve partnership. If they can't or wouldn't have this conversation, then potentially you are in the wrong firm?