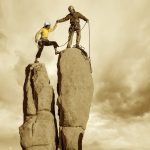 I ask everyone who signs up to our career kitbag, what their one burning career challenge is. In this new series of career clinics, we will look at some of the real life questions being posed. 
One question that I was asked:
Due to a career change and taking time out to have a family, I find myself to be 10 years behind my peers. I am a senior manager in an accountancy firm with 50+ partners. At the age of 47, within a firm which has many partners younger than me, and only 6% of the partners are female, what are my chances of making partner?
Cracking question!
EDIT: Since I wrote this blog post in 2013, I am seeing more and more people made up to partner in their late 40s. This is for both legal and Big 4 firms. The old advice of if you don't make it to partner by the time you are 40 you are not going to make it just doesn't apply now. In many ways, 50 is the new 40 in the professions!
Here are my thoughts:
In the 'ideal world'
Firstly, let's not get hung up on the rights or wrongs of your situation. In an ideal world, there should be no barrier to you making partner regardless of your age or gender. However, there are powerful legal organisational reasons why your age may actually be a barrier to you making partner at the age of 47.
Let's consider the organisational view point
Most partnerships have a partnership agreement which requires it's partners to retire from the partnership between the ages of 60 & 65. This helps make sure that new blood can come through into the partnership. As a partner is nearing retirement age, it is good practice to have a transition plan where the partner winds down and starts to handover their portfolio over a period of a couple of years. Let's assume for practical reasons, that your partners at the age of 60 start this transition.
If it takes about 5 years to establish yourself into your partnership, then if you made partner at 50, you would still have at least 5 years where you are delivering value over and beyond fees to your other partners. The question is, whether your firm has the commitment to you and your career to want to only have ~5 years of real value of you being in the partnership.
It all rests on your ability to win work
Regardless of your age, the first barrier to being made up to a partner is do you have a business case to show that you will be able to build up a partner-sized client portfolio? As you are now 47, I'd be focusing on building your own client portfolio if you want to make partner at your current firm. If you can demonstrate to your partners that you are able to have a decent sized client portfolio by the time you are 50, then you have every chance of making partner.
What about the fact that only 6% of the current partnership is female, and many of the partners are younger than you?
In an ideal world, this shouldn't matter. However, this rings alarm bells to me. You mention that many of the partners are younger than you, and the partnership is very male dominated. It's a sweeping assumption, but it sounds like unless the partnership is rapidly growing, there aren't going to be many new partnership positions coming. It may also be that you may just not been seen as 'one of the club'.
What to do now
Firstly, I would check out some assumptions with some key partners within your practice who you trust. You want to understand, by checking our these assumptions, what you need to show in your personal and business case:
What would you need to demonstrate to be seen as partnership material?
What size of client portfolio do new partners need to grow and in what time frame?
Where is the likely growth coming from in your firm – and where will new partners be needed?
What skill sets or technical specialisms are going to become very important to the firm in the next 5 years
For help with thinking about or writing your personal and business case for partnership, download our free guide to writing your personal business case for partnership. (email required)
Secondly, I would think about what you want from the next 15 years of your working life. If you yearn to be running the show and operating at partnership level, how about considering building up your profile and expertise, as the Go-To-Expert for something. This will give you the option of starting your own practice, or moving to a smaller practice where your client portfolio and skill set will be in more demand. If you are quite happy doing a good job and don't need to see partner on your business card, then is there the option to remain at your firm, in effect becoming a career manager? In our career kitbag is a free guide to planning your career. (email required)