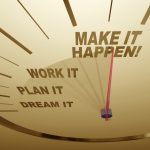 We are delighted that Cathy Richardson, has agreed to share her 6 part guide to job hunting on our blog.
Setting your objectives when starting out on a job search
1.         Know what you want
When setting out on a journey, it is only natural to plan a route, get a map, and program the satnav so that we know the best, most direct route to take. And of course, our map indicates where our destination is so that we know when we've arrived.
It is surprising how many candidates, when setting out on a job search, have no idea of where they're heading or what they expect to achieve.
The reality is that, without a very clear plan, your job search will be frustrating and extended.
2.         It's a competitive numbers game
During 2009 the economic recession caused large numbers of redundancies, flooding the market with senior and experienced people who have possibly not been in the job market for many years. At the other end of the spectrum, graduate opportunities decreased and it is more difficult for fresh graduates to get jobs within their academic areas. Of course, the job market doesn't only consist of new entries and experienced starters but the diversity adds strain at opposite ends of the job spectrum. Added to the normal churn of people looking for work for totally individual reasons, the volumes of job applications have increased exponentially.
If you don't know what you want, you won't recognise it when it turns up. And the likelihood of it turning up, realistically, is a lot smaller now than it was a few years ago due to the sheer numbers of applicants in the market. It's a lot more competitive.
So my very first piece of advice would be: GET A PLAN!
3.         Make sure you know what you do (And don't) want
Take some time out and write down what you really want. Not only the financial expectations, but the type of job, kind of organisation, location, level of seniority, etc. Are you planning a career change? Do you want to do exactly the same as before? Where are your flex points? On which points can't you be flexible?
And as you go through this, keep doing a reality check. The past is gone, what you had in yesterday's job is unlikely to return. But if you knew what you enjoyed about the last job, and which bits you disliked, you can get a picture of what would suit you best. And then do a reality check again.
You might have to take a drop in pay to get back into employment. If you can be flexible to location, you widen your catchment area and so, increase your opportunities.
4.         RESEARCH! And prepare for a long haul
If you haven't been in the jobs market for a long time, do some research. What applied even just a year ago, is no longer applicable so it's really important that you know how to calibrate your expectations.
Making lists and writing down all the information you have about yourself, your expectations and your flex points will give you sound information on which to base your CV. Or CV's: You might need to do more than one if you have a broad skill set, or want a career change.
The ideas and plans you put down now will inform your actions during your job search. You might become frustrated and despondent later on, so returning to this information will help you get back on track and maintain focus. It might take some time to get re-employed; having something to keep you on course will be useful in keeping you motivated.
Prepare for a long journey. The reality might turn out to be a lot shorter, but realistically the perfect job is not going to turn up quickly. If it does, count yourself lucky. If it doesn't, don't beat yourself up because many other people are in exactly the same situation.
Having a plan will keep you focussed and objective. It will also maintain your realistic expectations if things don't go the way you want them to.
About Cathy Richardson:
Cathy has worked in the recruitment industry for over 20 years, focussing on the Manufacturing industry. Cathy specialises in placing at Director level, both in the Automotive OE and Aftermarket sectors, sales roles for general manufacturing and also Plant management and project management. Cathy is a Fellow and regional director of the Insititute of Recruitment Professionals, working to elevate the image of the recruitment industry in the South East of the UK.
2009 was a killer for everyone in Manufacturing, and Cathy was made redundant twice in the space of a year. Disillusioned with the brand orientation of the major manufacturing recruitment companies, Cathy decided to set up on her own. Cathy Richardson Associates was born to challenge and overcome the paradigms that exist in today's recruitment market.