Your partners are very unlikely to hand you your first clients on a plate (unless you are lucky enough to be inheriting a partner's portfolio). After all, they (your partners) probably have their drawings and share of the firm's profits directly linked to the size of the client portfolio. This means that you can not 'hang onto their coat-tails' and aim to be a replica of them. You will need your own technical specialism and niche. I.e. so that you can become the Go-To-Expert for a niche, both to attract internal referrals from partners in your firm, and also attract new client enquiries that come to you.  
See here for other benefits to committing to a niche.
In this two part blog post I will take you through the five steps you need to do to find your niche.
When you establish a niche of your own, it allows you to specialise and become the Go-To-Expert on your chosen topic.
"That's all very well" you may be thinking, "but how on earth do I work out what my niche should be?"
The hard part of finding a niche is identifying and choosing one where you are confident that there is enough of a market that will be motivated to buy your services, and make a good living from it. Here are a couple of poorly chosen niches or "non-niches"
Click here to download our free Niche Worksheet to help you quickly and simply decide on your niche. (email required)
Accountant specialising in Owner Managed Businesses (OMBs). This is what most mid-tier and small firms of accountants specialise in.  This could become…..
Accountant specialising in working with owner managed financial services businesses
Commercial lawyer. There are a huge amount of commercial lawyers. What makes you different from all the others? This could become…..
Commercial lawyer specialising in working with fast-growing technology companies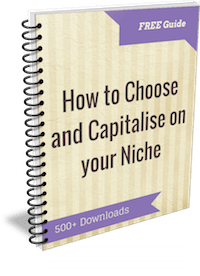 Can you see the difference? You may find our FREE guide to choosing and capitalising in your niche useful (email required).
To find a niche that will work for you, there are five simple steps to follow. I will go through the first two steps today, and the remaining three tomorrow. Follow the steps to find your niche!
Search the internet to find professionals with a similar skill-set to you. Write down all the sector specialisms and 'niches' that you find.

Write a list of at least ten possible niches that you could adopt.
Read more tomorrow to find out what to do with your list of ten potential niches.
---
Author Credit:

Written by Heather Townsend. I help professionals become the 'Go To Expert'. I am the co-author of 'How to make partner and still have a life' and the author of the award-winning and bestselling book on Networking, 'The FT Guide To Business Networking'.
To find out whether I can help you, have a look at "our services"