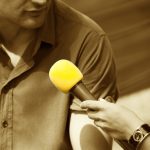 I am delighted and honoured to feature this guest post by Penny Haslam, a business journalist who has been broadcasting for nearly two decades on radio and television and founder of PHEW (Penny Haslam's Expert Women). Penny knows all about how to get your expertise noticed by TV and radio broadcasters. Getting yourself known by the TV and Radio channels is an excellent way to grow your external and internal profile. If you can harness this brilliant profile into new business, this is a great way to strengthen your business case for partnership.
Over to Penny…….
I coach people in how to perform brilliantly on television and radio as expert contributors. I'll explain what I mean by that term in a moment, but first I'll tell you why you should aspire to be the go-to expert that broadcasters regularly call upon.
Being asked to go on TV and radio can be a chore…Media appearances often come at short notice, can take you away from the office and your clients, and unless you're on national TV day in day out, you might ask what's the point? It can be a lot of hassle, time-consuming, not to mention nerve-wracking, so why do it?
I'll answer that with the help of a new client I'm working with at the moment. She's a dream customer because she worked out that appearing on TV and radio, using her expertise to help illuminate a story or issue in the news, is a surefire way to get noticed.
She knows she will be seen by:
– existing customers (endorses their decision to hire her)
– senior colleagues or partners (marks her out for career  advancement)
– industry peers (could lead to wider opportunities)
– potential clients (gets her new business).
 She knows that three minutes of airtime beats three years of sucking up to the boss.
She knows that if she appears on TV and radio she will be seen instantly as the go-to expert in her field, as someone who is trustworthy and good at their job.
And I know, as a journalist who spent much of my early career booking contributors for TV and radio programmes, that if she does a great job she'll undoubtedly get asked back again and again. This 'virtuous circle' gives her and her company an incredible amount of exposure over the years, something that brands pay hand over fist for through television and radio advertising.
So what is an expert contributor, on TV or radio?
Experts contribute to a story, with knowledge of the issue in hand and can articulate the wider context. It's different to PR where the aim is to get publicity for something you've done or said.
A well-prepared press release might, just might, result in you being interviewed, or your company getting a mention. But if you cultivate your role as an expert contributor you could be appearing far more often.
What sorts of programmes use experts?
Ones that are fact and speech based, so that's mostly TV and radio news programmes. Local radio is an excellent starting point for experts who want to appear on air.  I suggest you listen to your local BBC radio breakfast show to get an idea of what sort of people get on and what sorts of topics get aired. Do remember that at the moment broadcasters are looking for female experts at senior levels to help address a gender imbalance of those invited onto TV and radio shows.
For suggestions on which programmes use experts all the time and top tips on how to listen and watch so you further understand what's required of you click here.
About the author: Penny Haslam is a business journalist who has been broadcasting for nearly two decades on radio and television.
Find out more about Penny Haslam here