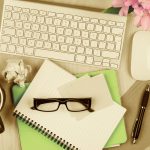 I am delighted and honoured to feature this guest post by Penny Haslam, a business journalist who has been broadcasting for nearly two decades on radio and television and founder of PHEW (Penny Haslam's Expert Women).  In this blog post she writes about how to know if you really have got something worth talking about. Over to Penny…..
If something's got legs, it can go somewhere. Journalists working on television and radio programmes talk about ideas having legs. Can an idea stand up for a half hour broadcast or three-minute report, on its own? The answer comes about after a bit of mulling and crucially, an understanding of the context in which the idea would be aired.
So if you want to carve out a niche for yourself on TV and radio as an expert contributor you need to apply this thinking to your expertise.
Let's find out what 'legs' a clothing manufacturer may have, by way of example, one that makes denim dungarees, let's say. It's reasonable to expect they will know about denim dungarees – let's hope so! They will also know about fashion trends for denim dungarees and the cost of materials. They'll also have a handle on employment law, motivating staff, wages, production efficiencies, economic climate, export market, the strength of the pound, branding, advertising, distribution. They might even know about organic fair trade cotton. And it's likely they would have knowledge, understanding and experience of all of the above – as well as a strong opinion on most of it.
I'm always surprised by how many people fling themselves at me at networking events, telling me they'd love to go on TV and talk about 'things' like being self-employed/a working mum/a social media expert/a life coach/a marketing manager or similar. I ask them:
 Are you qualified, experienced and credible in a field of expertise that lends itself to regular appearances on the media?
 Which programmes would invite you on?
The upshot is this: experts contribute to a story, have knowledge of the issue in hand and can articulate the wider context. If you are consistently building a picture of what you can talk about, and how you talk, then you will be of great use to the broadcast media.
 Here are three steps to figuring out your legs (unless you're a dungaree manufacturer and I've just done the work for you):
Focussing on your expertise, jot down all the things you know about. Use a mind map, or similar technique, to help you plumb the depths of potential.
Over the next couple of weeks try to spot stories and practice talking about them to colleagues, at the water cooler during a screen break, perhaps. Compile a list of articles and reports you've seen that you could comment upon. This is also useful to keep you current in your field of expertise.
Appraise yourself of the broadcast landscape so you know where your expertise will fit in and how/why that knowledge might be useful to news and current affairs programmes.
On BBC Radio 4 experts are interviewed all the time – in addition to general news programmes these specialist legal and financial programmes would be well worth a listen:
Law in Action – Radio 4's long running legal magazine programme, featuring reports and discussion on matters relating to law (currently off air, but some podcasts available)
Money Box – The latest news from the world of personal finance plus advice for those trying to make the most of their money. Live every Saturday at midday.
You'll come across peers and competitors during this process, occupying media space that could be yours. But don't let this demotivate you as there's always room for another expert in the field. The media has a lot of airtime to fill and is always in need of credible, engaging and articulate individuals.
So use your head to work out your legs, that way when opportunity knocks and a journalist calls you up about a story, you'll have an expert answer for them.
About the author:
Penny Haslam is a business journalist who has been broadcasting for nearly two decades on radio and television.
Contact Penny Haslam to find out more about her media training.