Over the next few months many of the Big 4 firms will be conducting partnership panel interviews for their candidates on partnership track and also partner panel interviews for their senior managers wanting to become directors. Therefore, in this blog post I will share 6 tips for how to prepare for your partnership panel interview or just your partner panel interview. Whether or not you are going for director or partner, the same advice holds true for a partner panel interview. 
Don't wing your partner panel interview
Your partner panel interview is not something you can rock up to and hope to succeed with no preparation. Of course, you know that. This means allocating time for the month before to prepare for your partner panel interview,  to make sure that on the day you are at your best and word perfect. Unfortunately client work can often scupper your plans for preparation. Only you can make sure that your preparation time for the partner panel is sacrosanct.
Take control of the panel
Your partners are looking for people who are acting as if they are one of them. This means having a discussion with them about your business case, not presenting to them your business case. The best way to do this is to take control at the beginning of the partner panel interview and say what you would like to happen. E.g.
I'd like to go through my business case for 5 or so minutes and then open it up to a discussion.
I've lost count of the number of times people have told me that they got feedback that they presented rather than had a discussion with the partners in their partner panel interview.
Anticipate questions – particularly around the weakness of your business case
There isn't such a thing as a perfect business case. If you think you have one, then you will probably not pass your partner panel interview because you are not self-aware or commercial enough. There are always weaknesses to your business case. Or there are question marks about your ability to achieve the promise of your business case. Therefore, identify what these weaknesses will be. If you can't do this, then ask your partner, mentor or sponsor. They will find them for you. Once you have identified your weaknesses then anticipate the questions you will be asked about them. These questions will come, so you need to be ready for them. How can you mitigate the risks? What personal strengths do you have which will compensate for the weaknesses you all have?
Be really clear about your message
When you are presenting your business case at a partner panel interview it's tempting to want to tell the partners EVERYTHING. There isn't time and you will lose impact if you do this. This means being really clear about your key messages. These typically are:
The size of the market and the opportunity for the firm now and in the future – typically 3 years into the future
Your evidence which demonstrates you can capitalise on the opportunity for the firm
How you are developing your business and resources to be able to take advantage of the opportunities outlined in your business case
Practice, practice, practice
Nearly all partner panel interviews will require you to present your business case and then have a question and answer discussion with the partners. You need to be word perfect for the presentation. This means practicing it over and over again until it is stuck in your head. After all, nerves can do funny things to you! Your key messages have to be locked in so that they just come out the way you want them to.
Use a Talk Sheet not slides
You only have (normally) a maximum of 20 mins to present your business case to the partners on your panel. We've had clients who've only been given 10 mins to present their business case.
When you present your business case you want to create a lively discussion between you and the panel members. Presenting a large slide deck to your panel is just not going to cut it. They will be snoozing in their seats before you know it… and with it any hope you had of making partner.
To avoid the risk of boring your partners when you present you normally need a one-page handout which we call a talksheet. See example on the left of a talksheet based upon a successful client we worked with who made it to partner in his Big 4 firm at the first time of asking. If you want to pass, it really pays to prepare for your partner panel interview
Of course, it would make your life much easier if you could use our Talk Sheet template as the starting point for your own Talk Sheet. That's why we put it into a Powerpoint presentation which you can easily change the data and colour scheme to make your own.
Click here to download the FREE template we used to make this Talk Sheet to build your own Talk Sheet in under 60 minutes.
To find out more about using a talk sheet read our article on creating your own talksheet by clicking here.
Free guides and templates to get you through your firm's partner track process
An idea of the size of client portfolio you will need to be a partner in a Big 4 firm
What due diligence should I do on my firm before buying in
6 tried and tested tips to ace your Partner Panel Interview
The definitive guide to building a business case for partnership
See whether you are a good fit for partner in your firm
What's included in the FREE guide: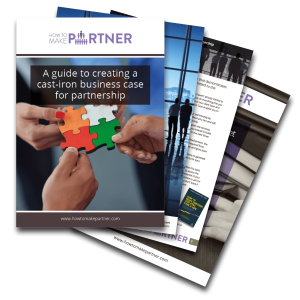 1. Extracts from real and successful business cases for partnership
2. How to structure your business case for maximum impact
3. What questions your business case needs to answer
Click here for more information about the guide
Learn what it takes to get noticed & win your next promotion