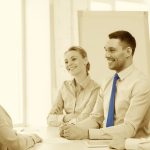 It is true that a large proportion of jobs never get on the open market. Organisations will normally explore many internal sources first, before placing jobs with agencies. Using a recruitment consultant to fill a job is an expensive strategy for any hiring operation.
However, the recruitment industry operates on a hugely diversified scale and the range of services on offer to employers means that it is quicker and easier to get a vacancy filled rather than do it internally. Many large corporate employers, who have high staff numbers and many vacancies, have in some cases outsourced ALL their recruitment process to external agencies.
According to the REC, the recruitment industry was worth over £22bn in 2008/9 (http://www.rec.uk.com/about-recruitment). Even though this indicates a drop from previous years, it is still a substantial and robust contributor to the UK economy. Realistically, every job seeker is likely to engage with a recruitment consultant during a job search. £22bn in fees represents a huge number of temporary, contract and permanent jobs being placed through agencies. Knowing how to deal with them, and what to expect from them, is crucial to reduce frustration and increase the likelihood of finding that desired job offer.
1. Who pays the fee?
In the UK, it is illegal to charge job seekers for finding jobs. Recruitment agencies, as all businesses, are commercial enterprises and require turnover to be continually successful. The fee is paid by the recruiting employer.
This focuses the relationship between recruiter and client (Fee payer). A different dynamic exists between recruiter and candidate (Job applicant).
The agency must always have the best interest of the client in mind, because that is were the transactional value is.
The candidate's best interest is represented by the fact that ultimately, there is a job for everyone and the agency, through their relationship with the fee paying employer, is a catalyst to achieve this objective.
2. What is the client paying for?
Selling people is tantamount to slavery. The agency does not own the skills and experience of the candidate, and for this reason has no business offering it for sale. In fact, this is a fact that many recruitment agencies themselves don't always understand! This is why the Gangmasters Act was brought to life a few years ago – To protect workers from abusive agency practises.
During a recruitment process, the recruiting employer pays for a service that provides them with a candidate pool. Sometimes, the candidate pool is provided by only one agency, but more commonly the service is divided between several agencies and the fee is only paid when a successful introduction is made, and the introducing agency walks away with the spoils.
3. It is a highly competitive business environment
The open agency market is highly competitive because in a "No solution, no fee" environment, it is crucial to win the fee for obvious commercial reasons.
This has developed a high focus on volumes in recruitment, and in most agencies consultants are targeted on a daily basis to deliver KPI's related to volume. The fact is that, the more activity that is put out, the higher the likelihood of achieving a win.
I don't personally agree with this form of recruitment, as I believe it to be detrimental to all parties involved. However, regardless of the seniority of the position being recruited or whether it is for a contract or permanent placement: The current recruitment market is driven mostly by volume.
For candidates, the unfortunate fact is that their CV often becomes a means to an end. The end is most certainly to the candidate's interest: After all, getting the job is the primary objective. But expecting an agency to work solely on a single candidate's behalf is unrealistic.
4. But its not all about numbers
At the risk of painting a very negative picture, I have to point out that not all recruiter / client relationships are based on volumes and competition. The industry has evolved to a point where recruiting clients have a wide range of choice. People are very important in the recruitment process, and many clients prefer to use the same agency or consultant over and over again because they have established a communicative business relationship. Many long standing business relationships exist where the consultant develops a deep and detailed knowledge of the recruiting business, and is in a position to offer a truly consultative service to both client and candidate.
Sometimes, for difficult to fill or senior roles, clients will retain the services of a recruitment specialist by paying a proportion of the fee upfront. In this case there is no competition from external sources, and the agency will actively search the market to find the most appropriate skills for the client.
These two scenarios are far more constructive for the candidate as information passes freely due to the limited volumes involved.
5. So what about the job applicant?
Finding a new job is like searching for the proverbial needle in a haystack. Regard agencies as the magnets that would attract the needle. After all, this is what potential employers do when the engage agencies. The more magnets you have working on your behalf, the more needles you will find.
Of course, not every job you are offered will be appropriate and you should be entirely in control of the process. Remember, you own your skills, experience and personal information. You should never be placed under any obligation, asked to pay a fee for job seeking services in the UK, or have your details sent anywhere without your express permission.
Without candidates, recruitment agencies can not exist. Without agencies, it will take a lot longer to find a job. It is in a candidate's interest to develop good relationships with recruitment agencies but is equally important to understand what to expect.
Ask the agency how competitive a particular process is: If you know how many other agencies are involved, you know what to expect. If it is a widely assigned role, the likelihood of success decreases. If it is a retained or exclusive arrangement, then you know you will have better communication and a more controlled process.
Use this understanding to your advantage, and you will have a far more positive job seeking experience. Expecting anything different will leave you feeling frustrated.
About Cathy Richardson:
Cathy has worked in the recruitment industry for over 20 years, focussing on the Manufacturing industry. Cathy specialises in placing at Director level, both in the Automotive OE and Aftermarket sectors, sales roles for general manufacturing and also Plant management and project management. Cathy is a Fellow and regional director of the Insititute of Recruitment Professionals, working to elevate the image of the recruitment industry in the South East of the UK.
2009 was a killer for everyone in Manufacturing, and Cathy was made redundant twice in the space of a year. Disillusioned with the brand orientation of the major manufacturing recruitment companies, Cathy decided to set up on her own. Cathy Richardson Associates was born to challenge and overcome the paradigms that exist in today's recruitment market.