Here are 3 great books that I suggest you put on your reading list to help you deal with difficult people and conversations. I have all three books and regularly recommend them to my clients, particularly when they are struggling with conflict situations at work, or difficult conversations they know they need to have.
Crucial Conversations: Tools for talking when stakes are high
This book gives you the tools to hand life's most difficult and important conversations. If you read this book, you will learn how to prepare for high-stake situations, transform your anger and hurt feelings (and others) into a powerful dialogue, as well as being persuasive, not abrasive.
Crucial Confrontations: Tools for resolving broken promises, violated expectations and bad behaviour.
What happens when we act out disagreements or violate expectations rather than talk them out? Whether it's a broken promise, violated expectation, or just plain bad behaviour, Crucial Confrontations teaches you skills for enhancing accountability, execution and resolution.
Assertiveness at work: A practical guide to handling difficult situations
This book tackles the realities of modern business life the uncomfortable situations that can arise with flatter structures, tough workloads, demanding hours, and the need to exert influence across traditional boundaries. In these situations, successful people need assertiveness in order to achieve their goals.
[box title="Surviving the politics in your firm" box_color="#9f9bb2″]
You may also find it useful to download our FREE guide to surviving the politics in your firm (email required).[/box]
What other books would you add to this list?
Learn what it takes to get noticed & win your next promotion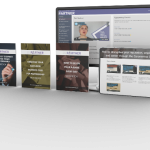 Connect with me on  LinkedIn and Twitter