To progress your career in practice, you need to move from being a great technician into someone who can be relied upon to win good quality work. To do that, you will need to differentiate yourselves from your peers AND the more experienced members of your practice. Not an easy task! This course gives you a simple jargon-free step-by- step process to be seen as THE expert to call. By taking this course you will discover simple steps to build your profile, how to grow your reputation and differentiate yourself from the competition and win new business.
The course contains 8 modules. Each module contains a video (which can be accessed from this workbook) with exercises to complete after each video. By the end of the course you will:
Have chosen your specialism and know how to market yourself to generate the right type of work for yourself and the firm as a whole
Have a plan to raise your visibility so you are the first person your network thinks about when they have a good referral for you
Know exactly what to do to move from coffees to instructions (i.e. how to routinely generate work from your network)
Have explored the sales process and know what you need to do personally to convert the right leads into sales
Know how to set your prices so that your profitability increases and your ability to convert clients increases
Have worked out how you will achieve the demands of your day job and progress your business development plan
Course Content
Business development basics
How to choose your niche
Content marketing
How to get referrals from your network
Using LinkedIn
How to convert prospects into clients
Pricing
How to make time for business development
Screenshots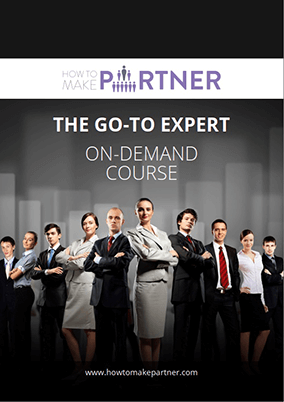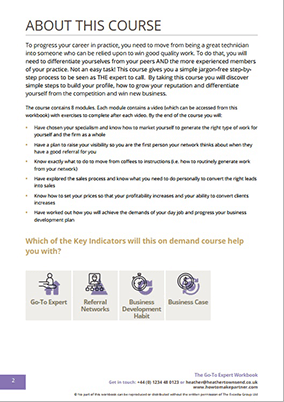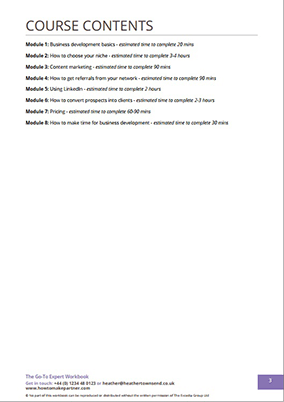 Partnership Readiness Assessment
Ambitious to get noticed as partner material? Then get ready to take your first step to move your career forward and complete the How to Make Partner Partnership Readiness Assessment. Stop watching others succeed and stop wondering what you need to do to get noticed as partner material.
When you take the Partnership Readiness Assessment, you'll be taking the first step to taking control of your own career development.
How can we help you?
To discuss how our courses and Progress to Partner corporate membership can help your team to grow and develop professionally, please get in touch below.