This course will give you the skills and confidence to delegate your work to others, so you can focus on the things can will move your career forward. Free as part of a premium subscription to our Progress to Partner members-only site.
This self-study course will help you delegate your work to others to free yourself up to focus on more valuable or important things to spend your time on.
This course contains a video with a series of exercises to complete after the video. By the end of the course you will have:
Understood how to delegate effectively
Identified the right mindset to delegate
Understood how to improve your ability to delegate
Course Content
How to delegate effectively
Where are you likely to go wrong with delegation?
Exercises: How can you improve how you delegate?
You can purchase this course as a "standalone" course OR join our Progress to Partner subscriber-only site for £290+VAT for 12 months access to this self-study course and all the other self-study courses, free attendance at our Lunch & Learn Workshops and access to guides, workbooks and recordings to be sure you are spending 12 months building your "partner-ready" skills. Find out more here
Screenshots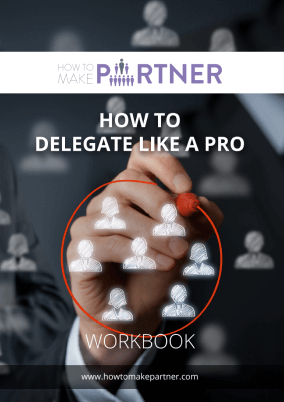 Partnership Readiness Assessment
Ambitious to get noticed as partner material? Then get ready to take your first step to move your career forward and complete the How to Make Partner Partnership Readiness Assessment. Stop watching others succeed and stop wondering what you need to do to get noticed as partner material.
When you take the Partnership Readiness Assessment, you'll be taking the first step to taking control of your own career development.
How can we help you?
To discuss how our courses and Progress to Partner corporate membership can help your team to grow and develop professionally, please get in touch below.