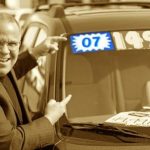 Last week, I blogged about delivering a workshop for the high potential senior managers in the UK200 group. In this blog post, I am carrying on the themes that came out of the day.
At the beginning of the day I asked many of the delegates what they hoped to get out of the workshop. The general theme to the responses was:
learn from others

not sure
immerse myself
In other words, I'm guessing similar to most senior managers in professional service firms, there was a lack of focus for the participants about their career. Interestingly, by the end of the day, this had changed for most of the participants…
If, as the image suggests, you are in charge of your career, then how do you go about putting yourself in the driving seat of your career?
1. Do your own career planning
If you don't know what you want from your career, then it gets difficult, in fact impossible, to take good career decisions. If you don't have your own career map, you will then take career decisions on what others want from you – i.e. your firm, and maybe your friends and family. Ultimately, you need to do your own career planning when you want to do it – not when you are told to do it by your firm.
I remember coming back to work after my first maternity leave. I attended a values-based leadership course, where I was told that having a career vision of being the best I could be in my current role, was not good enough. This was a classic case of someone else dictating what should be happening with my career and when. Of course, 'being the best I could be in my current role', is not a great long-term career vision. However, at that point in time it was a good focus for me.
2. Pay for some of your own development
Those lawyers, accountants and consultants who take on personal responsibility for their own career will often fund some of their own development. Why should you expect your firm to pay for all your development? If you are serious about your career and what you need from it, then you will be prepared to pay towards that development. By all means, ask your firm if it will pay towards your development, but if necessary, pay for it yourself. Interestingly two of my coaching clients have recently reported a step-change in their career after utilising my services.
3. Squeeze the last inch of value out of any development you get given
Training and development is no longer a right if you are employed in professional services. If you are given the opportunity to attend a workshop, work out in advance exactly what you want to get out of the workshop. Also, line up people who will be able to help you put into practice what you have learnt after the workshop.
4. Know what you want from your life inside and outside of work
How many of you have goals for your life inside and outside of work? I would hazard a guess that most of you have goals inside of work – but probably not goals outside of work. If you are going to have the whole package – i.e. a life outside of work, you need to work out what having a life means. Only then can you productively work towards having a life outside of work.
5. Ask the questions
Have you asked your partners what you need to do to progress your career in your firm? Do you know what you will need to demonstrate in your business and personal case to get accepted into the partnership? How much capital will you be required to put into your firm to get a seat at the partnership table? Do ask the questions. The more knowledge you have, the better career decisions you can take.
6. Work with a coach
Everyone inside or outside of your work has an agenda for you. Your firm wants one thing. You friends and family also have an agenda for you. These work and home life agendas may or may be what you want. That's why working with a coach is so beneficial for professionals wanting to move forward their career. A coach will give you a sounding board and keep you accountable to YOUR goals. If you look at any successful person in your practice, I bet you that they have used or are using a coach to help them achieve their goals.
7. Grow your own rainy day funds
Very often we can get trapped in an unsuitable role or firm because we can't afford to leave. Therefore aim to build up a rainy day pot of savings which will pay your bills for 6-12 months. Having this money stashed away may be the difference between breaking free from career hell and career heaven.