Read any article or book on progressing your career and inevitably you will be told the benefits of having a career mentor. And I totally agree. A mentor for your career is essential if you want to make it to partner. But, making it to partner in a professional services firm is NOT like getting into the C-Suite. There is no other profession that makes its top leaders bill 6-10 chargeable hours a day AND also grow a practice on top of this. And yes, some of the Magic Circle firms in the UK expect 10 hours of chargeable time from their fee earners. (I am secretly glad that neither of my children are expressing any desire to be a lawyer in a Magic Circle law firm.) When you say that out loud it almost sounds insane. But that's the world we work in…
The benefits of a career mentor
I know you have probably heard this all before, but here are the reasons why a career mentor can help you progress your career in practice:
They will share their experiences with you so you don't make the same mistakes as them
They will potentially open doors for you to help speed up your career progression
They will possibly help you get the visibility and profile you need outside of your practice area
They can give you another insight into how the partners are thinking
Who else do you need aside from a career mentor to rapidly progress your career to partner?
In 'How To Make Partner And Still Have A Life' I talk about the concept of a Support Team. The reality is that making it to partner is a marathon, not a sprint. All the best marathon runners or endurance athletes have a support team helping them be the best they can be. It's the same with you and your career progression. Yes, there are many benefits of a career mentor, but you (if you are the smart, savvy person I think you are) need another 4 people in your corner. These are: Sponsoring Partner: This is the person who will put you forward for partner. They are the person who will literally stick their neck out and decide you are ready. They are normally the head of your practice area or service line. Sadly, if they don't think you are ready or they don't think you are partner material you are going to struggle to make it to partner in the firm you are in. External Coach: Of course I would say that! But this person is the one person you can rely on who doesn't have an agenda for you. Your firm, your mentor, your family, your significant others will all have an agenda for you. A good external coach can be a sounding board, mentor and also critical friend as well as a coach. Friends inside and outside of work: Work is much easier when you have friends. But also when have friends outside of work who you can talk about what is happening in your work life. A supportive 'life' partner: Sadly most of us, just when we are ready to accelerate to partner, also have conflicting priorities. Just as most of us are settling down and having families, we also want to be getting from manager through to partner. Our 30s are often the hardest decade of our life due to these conflicting priorities. One of the benefits of a career mentor is they can often share their experiences of how they juggled everything. Regardless of your family situation, you do need a supportive 'other half'. If they don't support you with your career ambition it's going to be hard work.
The importance of your Support Team can not be under-estimated
I see your support team as so important, that it's an important part of the self-study course "How to truly commit to moving your career forward", which is in our Progress To Partner membership site.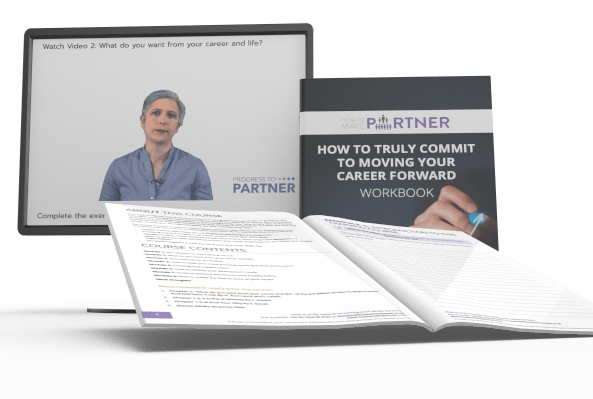 In fact, this course is the foundation of the whole membership site. It's the one course we recommend that all members undertake. Even if they have already made it to partner. And yes, of course it takes you through the benefits of a career mentor and exactly how to get the value of this relationship. If you take the self-study course, by the end you'll have:
Created a career plan which you are motivated and energised to implement
Created the time and space to do a little on your career plan every week
Identified how to create habits which will support your career progression going forward
Have set your first ONE BIG FOCUS to focus your career progression for the next 90 days on what really matters
The tactics required to help you be at your best every single day
Here is a taster of Video 5 of the course – Creating Your Support Team: https://www.youtube.com/watch?v=iP93dTuZX8s To see the whole recording and complete the "how to truly commit to moving your career forward" self-study course, along with my 30 other career-enhancing videos, join Progress to Partner for just $1 for a 7-day trial. You'll also get access to my self-study courses including The Go-To Expert, Creating A Cast-Iron Business Case for Partner, How To Be On Your A-Game Every Day and over 15 years of training and resources supporting people's career progression in practice bundled into a single location.