Making partner is not just about meeting your targets, keeping your head down and getting all your work done. There are many more things you need to be doing to show the partners in your firm that you are ready for partnership
4 things you need to do to show that you are ready for partnership
You're great with clients – not just your own, but everyone's clients. This means you are thinking about the firm as a whole and not just your small corner
You're actively being seen within your department to be taking on some leadership and managerial responsibilities, that could be supervision, that could be sitting on a committee.  Make sure you are putting your hand up and taking up some of the strain to help the practice move forward and run itself well, in your own non-chargeable time.
You actively look to develop the more junior members of the staff. So that could be in a supervisory role, or it could be by making sure that on each assignment, you're helping them develop, you're giving them timely feedback, that they like working for you.
And finally, you are seen to be able to stand up on your own two feet, so that you don't need work fed to you, you can take your own initiative, you can be trusted to get on with the things that you need to do. This really shows that you're ready for partnership.
What are you achieving that is seen to be partner-level stuff?
Here's a classic example with one of my clients who made partner. A really strong part of her personal case was that she had brought together a fairly dysfunctional group of individuals around the firm, set up a new sector group that was really buzzing and that people wanted to be a part of, and the work was starting to flow in.  That was acknowledged by everyone that that was a really hard thing to do, and it was a sort of partner-level thing to do; she was the only sector head that wasn't a non-partner.
My Creating Your Cast-Iron Business Case For Partnership self-study course has been designed to bridge the gap for people in professional services firms and give you the training you need to create and pitch your business case. T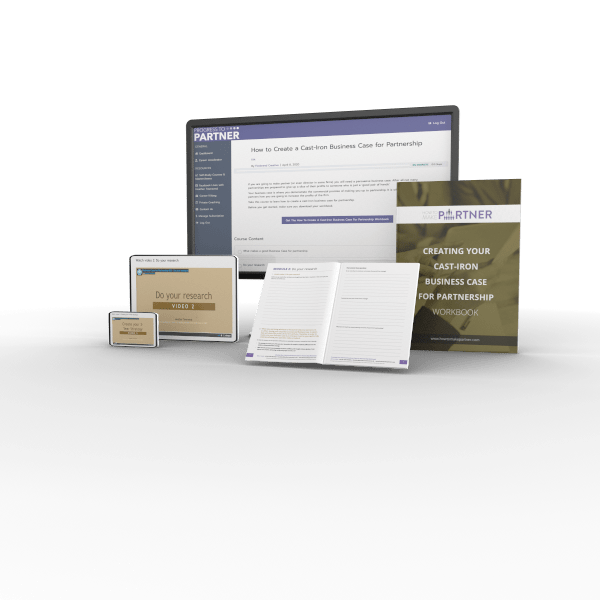 To gain access to the course, along with my 30 more career-enhancing videos, join Progress to Partner for just $1 for a 7-day trial. You'll also get access to my self-study courses including How to Truly Commit to Moving Your Career Forward, The Go-To Expert, How to be on your A-Game every day, and over 15 years of training and resources supporting people's career progression in practice bundled into a single location.