Most firms require their potential partners to create a partner promotion business case. Typically there are only 7 types of partner promotion business cases. Once you know which type your business case is, you can then increase its impact and persuasiveness. In this last part of a 3-part blog post, (part 1 here, part 2 here) I examine the remaining 3 types of business case and what strategy you need to maximise the opportunities of each.
How to increase the impact of your partner promotion business case if it is based upon your strong relationships and deep knowledge of an important client or introducer
Sometimes an individual becomes so important to a client that, in effect, the client becomes "theirs", regardless of who won the client in the first place. This can be as a result of the individual undertaking a secondment with the client or introducer. For example, I've seen two successful partner promotion business cases based on the following premises:
A turnaround specialist spent 12 months on secondment in a bank. As a result of the strong relationship he built in the bank he was able to get his firm onto important panels AND get a disproportionately big part of the work from these panels. If he had left his firm he would have taken his network within this bank with him, and the firm would have lost this significant stream of work.
A corporate lawyer spent 6 months as an associate in a retailer where the firm was struggling to gain a proper foothold. As a result of the secondment the retailer only sent work directly to this associate and refused to deal with anyone else in the firm. She was able to expand the client into a major account for the firm.
If you are in this situation you will need to demonstrate:
How you have expanded the client account or amount of work which comes from a particular introducer. E.g. revenue or contribution.
How strong your ties are with the client or introducer and how they rarely, if ever, go anywhere else in the firm to talk about new business.
How to increase the impact of your partner promotion business case if it is based upon an opportunity to enter a new marketplace or offer a new service
Typically this type of partner promotion business case is exclusively for lateral hires into the firm. In this type of business case you will need to demonstrate:
Your credentials to build up this new service offering or this new market sector.
Your track record at winning new business for the last three years, broken down by year.
How you plan to use the existing firm infrastructure to build up your new practice, e.g. cross-referrals from other departments.
The team you will build beneath you.
Risks and critical success factors associated with your business case.
How many of your current client list or introducers will come with you when you move to the new firm.
 Check out our How to Build a Cast-Iron Business Case for Partner self study course . It will take you through the steps you need to take to work steadily but determinedly towards presenting your Business Case for partner. It's also of the most sought-after courses in our subscriber-only site Progress to Partner . We think it's a must-have in your arsenal of tools and guidance to help with your career progression.
How to increase the impact of your partner promotion business case if you run a business support department
Very occasionally, a firm will admit non-fee earners to the partnership. These tend to be people in critical lead roles in their practice management departments, e.g. HR Director or Marketing Director. The whole premise of their business case is built upon how much more effectively they could do their job if they were privy to the sensitive and confidential conversations around the partnership table. There tends to be some non-negotiables before a partnership will entertain the thought of a non-fee earner being admitted to the partnership:
They and their department are highly regarded across the firm.
They are personally liked and seen as highly valuable to the firm.
Typically a business case for a non-fee earner is based on some or all of these premises:
There is a precedent in the marketplace to admit the person doing this role to the partnership. Firms that have done this are seen to be outperforming their peers.
There are numerous examples of where the partners would have been put under less stress, had an easier time, or lost less money if this individual had been able to guide their thinking earlier in the process. Typically this involves large scale change projects for a partnership, e.g. merger or acquisition, major restructuring.
The individual can identify exactly how their department would be able to deliver a better service to the partnership if they had a position at the partnership table.
In summary
No one business case is the same as any other. However, if you know the premise your partner promotion business case is built upon, you can easily maximise the impact of your case.
We have a great course in our subscriber-only site Progress to Partner  called How to put together a development plan to achieve your career goals.  The course gives you the structure, clarity, and guidance to gain the skills, knowledge, mindset, and experience to take your career to the next stage or level – whatever you want that to be.
Free guides and templates to get you through your firm's partner track process
An idea of the size of client portfolio you will need to be a partner in a Big 4 firm
What due diligence should I do on my firm before buying in
6 tried and tested tips to ace your Partner Panel Interview
The definitive guide to building a business case for partnership
See whether you are a good fit for partner in your firm
What's included in the FREE guide: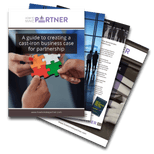 1. Extracts from real and successful business cases for partnership
2. How to structure your business case for maximum impact
3. What questions your business case needs to answer
Click here for more information about the guide