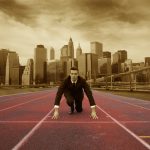 That moment has come when you are finally qualified. Your real career starts now. But do you know what is expected of you when you get promoted to a 'qualified' level role? In this blog post,I share an exclusive extract from the 2nd edition of 'How to make partner and still have a life'  (Click here for a free sample chapter)  to show what is typically expected from you when you qualify in a Big 4, Magic Circle or Mid-Tier firm.
In chapter 14 of 'How to make partner and still have a life', (Click here for a free sample chapter) we talk about how your role will change as you move upwards in the firm. We also look at what is expected at each level within a firm. In this extract, I share what is expected of you as a newly qualified accountant, auditor or consultant.
Qualified
Typical job title: senior, consultant, management consultant, executive, senior associate
Key focus of work: gaining experience and consolidating your technical knowledge and skills.
Typically after two to three years most trainees will qualify. Already by this time several junior people will have been rooted out and left the profession. This could be because they haven't passed their exams or they realized that their chosen profession was not for them.
During this stage, you will start receiving more technically complex and challenging client assignments, projects and pieces of work. Although not always a certainty (dependent on the firm you are in), you will probably be trusted to have some direct dialogue with clients.  Although you may probably find that all your correspondence with clients will continue to be reviewed and signed by a partner before it is sent out. You may even be given a few assignments where you are expected to manage more junior members of the project team (eg. if you are part of an audit or surveyor team on site.
You will not usually be expected to be actively involved in business develop­ment work. However, most firms will encourage and expect you to start building a network with your peers, inside and outside your profession (see Chapter 13). This will enable you to eventually win your own client work. Although you may not be given the opportunity to attend a pitch as part
of the pitch team, you can expect to help by carrying out research, preparing presentation notes and information packs.