Thanks for clicking through from Big4.com.
It's great to see you here. Welcome to our Career Kitbag, where you have over 40 free resources to download.
These resources, guides, workbooks, fact sheets, self assessments and many more, have been written by me, Heather Townsend, the author of the award-winning and best-selling, FT Guide To Business Networking, and my 'How to make Partner and still have a life' co-author, Jo Larbie.
Between us we have over 30 years experience of working with accountants, consultants and lawyers from the Big 4 and Magic Circle firms, plus mid-tier and small practices. We've personally helped hundreds of professionals take the step up to partner successfully.
"I know that the site will be useful." Marketing Director, UK Top 100 law firm
"I really enjoy your informative site. The links have lead me all over the place and I feel much more positive than I did 48 hours ago." Tim
"I've only gone through a small portion of the material so far and it's spot on." Partner, Consultancy firm
"I cannot thank you enough for the priceless materials you have made available to the Public!", Accountant, ACCA MBA
"I'm very happy with the content. You've done a great job of showing the importance and value of the fundamentals. Something that too often gets lost as we chase the next new fancy technology or methodology for our clients and careers.", Partner, Consultancy Firm
"I like your book and the online resources. You answered several questions in your online resources that I did not realize I had." Partner, Consultancy firm
'How to make partner' the Blog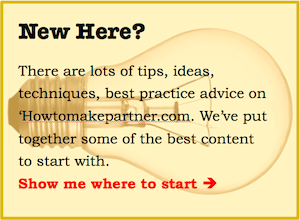 Who I work with?
I head up the mid-tier and large professional practices team at Excedia. Which means I spend 60% of my time speaking, coaching and training lawyers, accountants and consultants to either make it to partner, successfully remain a partner, or build a reputation as the Go-To-Expert. To find out whether you are the sort of person (or firm I work with) check out Is this you?
To give me the variety I crave, at any one time I tend to work with 4 or 5 small professional practices, helping the practice owner build a business to allow them to have the freedom that an income worth over £150k can bring. These are normally lawyers, consultants or accountants – but occasionally recruitment consultants, trainers and coaches. To see whether you are the sort of small professional practice owner the Excedia Group works with, click Is this you?
Connect with Me
Thanks for visiting my about page – if you've not already don't forget to follow me on Twitter so we can interact there.
I'm also relatively active on other social media sites like LinkedIn.