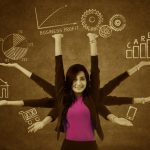 1. Work out what work/life balance means to you
One person's ideal balance could be another person's idea of hell. 'Work/life balance' is a very personal thing. To be able to achieve a work life balance you first need to understand what that means to you. Does it mean not working at weekends? Does it mean, for example, leaving work on time and spending a couple of evenings at the gym?
2. Assess how 'balanced' you are
Inevitably achieving a better work/life balance means making sustainable changes in your life.  Unless you are aware of where (or how) your life is not in balance, you wouldn't be able to make the changes.
3. Identify what is stopping you from achieving your ideal work/life balance
There is no point in setting goals and putting in place action plans to achieve your ideal work/life balance if you don't know what is stopping you from achieving your ideal work/life balance. For example, it may be as simple as you switching off your work mobile phone when you leave the office, so you can't be disturbed by work calls in the evening.
4. Change your job or working environment
Typically the first 90 days in a new role sets the pattern of how and when you are going to work. It may sound a little melodramatic, but often the only way of improving your work/life balance is to change your job or working environment. For example, 12+ working hours are quite common in big city law firms! If you have a long commute into the office, have you thought about asking to work from home one or two days a week. Home working, by making you slightly less accessible, can help you be more productive during the working day. Another option is to think about compressing your hours, so that you can minimise your overall commuting time.
5. Work with a coach
A coach will help to keep you to your good intentions. They will also help you improve your self awareness to understand what is getting in the way of you achieving the work/life balance you crave –and then help you put together simple actions to achieve your goals.
6. Make goals & tell people about them
The more visible your goals, and the more you tell people about them, the more likely you are to achieve your goals. Remember to word your work-life balance goals in terms of the actions you have decided upon to achieve your output. For example, 'leave the office by 18:00, at least three times a week'
7. Prioritise & delegate
As the saying goes, Rome wasn't built in a day. Prioritising your to-do list will help you get the important tasks done and prevent you working long hours. It goes without saying that effective delegation will help you work less hours in the day.
8. Get better at saying 'no'
Do you find that you always want to be helpful, and find it difficult to say 'no' to people? You may find that by getting better at saying 'no' to people, you may find that you have less to get through at work & and at home.