Working in Big 4 or Mid Tier firms – what are the differences? This is an important question to address for many Accountants and Consultants looking for the best opportunity, as this could be the difference between them being stuck on the ladder or progressing in their careers so that they make partner. To help you make the right decision for you, in this blog post I explore the 7 biggest differences between Big 4 firms and Mid Tier firms.
If watching rather than reading is your thing, in this video (12 mins) I talk in detail about the key differences between the Big 4 firms and the Mid-Tier firms. (For more videos to help you progress your career in partnership, subscribe to my channel on YouTube: How to make partner and still have a life)
What is the difference between a Big 4 and Mid Tier firm?
Firstly, I want to quickly define what 'Big 4' and 'Mid Tier' firms are.
Big 4 firms – the Big 4 are the four biggest professional services networks in the world, consisting of KPMG, EY, Deloitte, and PwC. Working for one of these firms is considered the absolute pinnacle of a career for accountancy and consultancy professionals. They take on huge amounts of graduates every year. And if you are lucky enough to get a job with them, then this can make it easier for you to get a good job as having 'Big 4' on your CV is a door-opener.
Mid Tier firms – traditionally seen as any firm which is not a Big 4 firm or a small firm. As a rule of thumb, think of the Mid Tier firms as the top 100 UK firms, minus the top 4 firms. The top of the Mid Tier, e.g. BDO, Grant Thornton, RSM, Mazars are very different from the rest of the Mid Tier.
While this may answer the literal question of what is the difference between a Big 4 and Mid Tier firm, when it comes to the experience of actually working for one of these firms, the differences become greater. Here are the seven main differences.
Big 4 firms offer a broader range of specialisms and larger clients
Whilst recent audit reforms mean that more Mid Tier firms get to audit FTSE 100 and FTSE 350 companies than before, it is fair to say that the Big 4 – EY, KPMG, Deloitte, and PwC, tend to work on clients at the top of the mid-market through to the largest multinational and international firms. If you work for a Big 4 firm, you are pretty much guaranteed to work with the largest companies and richest private individuals. Over the last decade we have seen the top 6 firms, i.e. the Big 4 and BDO/Grant Thornton all start to use the advances in Cloud Accounting Technology for small businesses. So, even if you find yourself at a Big 4, BDO or GT you could still be working with small businesses. But then again in the last year or so, what we've seen is the opposite happen. Some of the largest firms, e.g. KPMG are now moving out of the small business market place. It's fair to say, that there are no hard and fast rules with this!
After the Sarbanes-Oxley Act in 2002, the Big 4 firms sold their large consultancy arms. Over the last five years or so, they have been rebuilding their consultancy practices by diversifying their offer, whilst retaining their traditional accountancy, tax and advisory services. After all, given the unprecedented access most of the Big 4 firms have to large businesses in the UK and globally, it makes sense to be able to offer a complimentary consultancy service. But the recent move in the UK to break up the Big 4's stranglehold on the FTSE 250 audit market is once again questioning the true independence of the Big 4's audit teams. There may be a move in the UK to decouple the Big 4 audit practices from their consulting arms. In the world of professional services, history really does repeat itself.
The Mid Tier firms, and not just the ones at the top, e.g. BDO and Grant Thornton, do offer services outside traditional accountancy, tax, and advice. However, the Mid Tier consultancy practices are often tiny in comparison to those in the Big 4 firms.
Whilst you can become a highly technical specialist outside of the Big 4, there is more opportunity to specialise in a Big 4 firm as they work in all three markets.
Sign up for our FREE Career Kitbag
Over 40+ resources, as featured in How To Make Partner And Still Have A Life and Poised For Partnership to help you progress your career to partnership – and when you get there stay there. Find out more here 

Working for the Big 4 means a big salary
In Mid Tier firms, it is widely accepted that they can never compete with the salaries and packages offered by the Big 4 firms. This is why you will find the BDO's, Grant Thornton and other firms at the top of the Mid Tier aiming to attract the brightest talent by providing a nicer working life.
"I know if I had stayed at EY and made it to partner, I would have been a very rich man"

Ex-EY Director
If you are lucky enough to get a role in a Big 4 firm, you can expect a 'market-leading' salary and benefits. Of course, you will be expected to work extremely hard to earn this salary so the choice to work at a Big 4 depends heavily on what your priorities are. After all, money doesn't buy happiness. Read my post about what it really means to make partner.
A Big 4 firm feels more corporate
Whilst the Big 4 are still Limited Liability Partnerships, they are much closer to a corporate than any of the Mid Tier firms below those at the top of the Mid Tier (such as BDO and Grant Thornton (GT)). This means there are generally more established processes and systems within Big 4 firms than in the Mid Tier. In fact, some of the firms in the UK Mid Tier are currently spending huge amounts of time introducing a consistent way of working.
The Big 4 can admit more partners every year
Given the relative size differences between a Big 4 firm and a Mid Tier firm, it is not surprising that there are more partners admitted every year within the Big 4. According to the 2018 Accountancy Age Top 50 table, the Big 4 have 3,230 partners between them. This is more than all the partners in the top 50 to top 5 UK firms!
While this means that the Big 4 have a little more wiggle room to admit a new partner and then help them build their client portfolio, it can also be harder to secure a place on the partnership track if a firm has a down year. For example, if one year PwC offers 70 places for partner but the next it only has 30, that's the same amount of people competing for those limited spaces but you have a lower chance of getting it. (Discover 5 Foolproof Ways To Position Yourself To Get On The Partnership Track)
These 10 critical lessons will be the difference between making partner and not making partner
These 10 lessons are taken from our experience of working with successful candidates to make partner. Can you afford not to read them?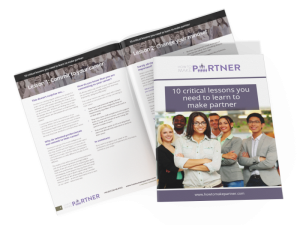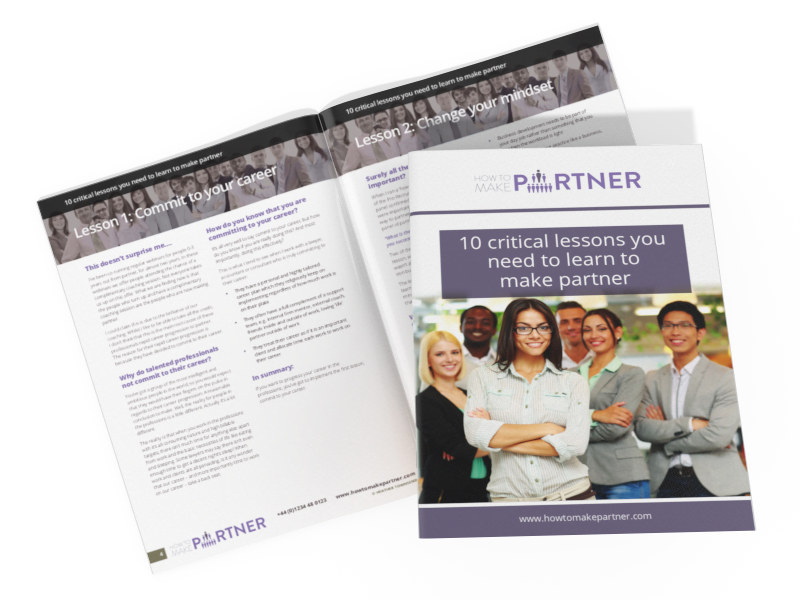 Much longer working hours in the Big 4
While the higher salaries offered by a Big 4 firm are a huge benefit, they almost always translate into a longer working week for fee earners than if they worked in a Mid Tier Firm. This means long hours, working weekends, and zero social life. And the targets you are expected to hit each year in a Big 4 firm never get reduced!
When I worked for BDO, the partners there had often proactively chosen to work at BDO for a better quality of life. As we said before, money isn't the be-all and end-all. My post about the pros and cons of making partner may give you food for thought here.
Big 4 can offer greater mobility and larger international networks
International networks are very important to all of the top 10- 15 firms in the UK. However, it is fair to say that the Big 4's international networks' individual member firms tend to be closer than the individual members of the Mid Tier networks. For example, the Big 4 firms across the globe, even though they are separate business entities, share the same brand name.
With this increased closeness, Big 4 fee earners are expected to be more geographically mobile than fee earners in the Mid Tier. This expectation of mobility for the Big 4 firms could mean high flyers are expected to take a secondment abroad or relocate their family to take advantage of a partner role in another office. This expectation makes for a tough decision, one that I was recently a part of when advising a Director in Deloitte in Canada on whether he should move his family over 1000 miles for better partnership prospects.
Read: When is the right time to move from a Big 4 to a Mid Tier Firm?
Higher 'gearing' of staff to partner in the Big 4
The partners in the Big 4 firms earn substantially more profits per partner than partners in the Mid Tier firms because they have a higher gearing. This means that there are perhaps 10-20 members of staff to 1 partner in a Big 4 firm, rather than 5-10 members of staff to 1 partner in a Mid Tier firm. This is part of the reason why many Mid Tier firms actively differentiate their firm's services as 'partner-led' – that is to say that a client is more likely to be dealing directly with a partner rather than with a manager or director.
The Big 4's higher gearing means that although there are many more Big 4 partners made up in any one year than in a Mid Tier firm, there is also much greater competition for partner opportunities.
Big 4 or Mid Tier – which do you prefer?
It's a case of horses for courses. While Big 4 firms are likely to offer more opportunities, challenges, and benefits than most Mid Tier firms (excluding BDO and GT), not to mention that it looks great for the CV, these come at a cost of long hours, greater competition, and some great personal sacrifice.
While this blog post answers the question 'what is the difference between a Big 4 and mid-tier firm?' we do have countless more that aim to help you understand exactly what you are getting into when you go for partner on our website. While you're there, don't forget to also download your free career kitbag which is packed full of advice to help you progress your career.
Discover your Partnership Readiness Score
Do you have a career plan guiding you to do the right things at the right time?  Find out how ready you really are to make partner.