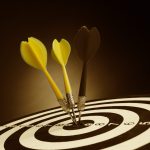 I have a local electrician in my network and he wins all his business via referral. In fact, his business is growing at a rate of knots and he has a steadily growing team of electricians working for him.  He makes it incredibly easy for his network to think of him and refer him to work winning opportunities. Plus, he's a nice lad who is always helping others out.
So, how does he does this?
He asks all his network – in fact anyone he meets, friends, family, fellow business owners, to call him when they see a flickering light in a council or business property. He then makes the call to the establishment with the flickering light and offers for one of his team to come around and change the light bulb (as a paid job) – whilst also checking to see whether there are any other bits and pieces that may need to be done. Of course, he diligently passes on any other pieces of facilities maintenance to members of his network!
He has identified his flickering light. i.e. an easy visual or audio trigger for when his services are required. He then makes it incredibly easy for his network to tell him about it as he then does the hard bit, i.e. making the call and closing the deal.
We all have the equivalent of a flickering light for our business. What will your network hear or see when your services are required? For example, my 'flickering light' is if you meet any lawyers or accountants from local firms who are not partners out networking, give me a call.
A good flickering light should be very easy to spot. It will probably be specific; asking for people to introduce you to 'high net worth individuals who need some financial planning', is not particularly specific or easy to spot. However, asking for 'an introduction to professional women who are about to or are going through a divorce' is a great flickering light.
Now, when you know your flickering light, use this within your 60 second slot, or when you are asked – who do you want to meet?
What is your flickering light?