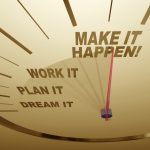 In the third and last episode of their series "Don't let your dreams fall asleep", (read part 1, part 2) Ciprian and Richard (authors of the recently published 'Dream It, Do It, Live It!,  share their view on what it means to make your dreams and career ambitions real, including your dream of becoming a partner.  
There are three key aspects to keeping your dreams and goals awake, and from being awake to becoming a real living part of your life: the right mental framework, the right environment and the right approach. Let's discuss each of them, one by one.
The right mental framework
Here we are referring to the state of mind you have when approaching your dreams. There are four simple aspects that anyone can think about and apply:
The first is that you must make a conscious choice. Dreams and goals do not become real because you dream them, but because you make a choice and say: "I am going to do this!" This is not just about saying the words to yourself, but believing them and meaning them. This is about making an internal promise to yourself: I

am

going to do this.
The second aspect is to prioritise your dream. If you really want to achieve a dream, you must prioritise the steps towards achieving it as higher than other things that eat up your time. It sounds so easy in theory, but can be very hard in practice. Decide what is important and what you are willing to stop doing. Real prioritisation always requires deciding what to stop and what to quit, so that you can achieve those things that are important to you. This can be difficult, but is even more important, if your life is as busy as most successful people in professional services.
It is essential to focus when taking a dream forward. That means cutting out all those things that waste time. This can be watching TV, surfing the web or keeping up to date with Facebook. We are not suggesting you should live the life of a monk and have no fun. But we do suggest you look at the things you do and cut out as many time wasters as possible. For example, many people spend about 2 hours a day watching TV. That is 730 hours a year – or the same number of hours as you would spend at work for 90 days! If I offered you 90 days to work on becoming a partner right now, you would probably jump at the chance. Well, it may be already there for you.
Finally, we suggest you don't wait for the perfect time to work on your dream. We regularly meet people with great dreams who are waiting for that perfect time to pursue them. The chances are the perfect time will never show up. The best way to think is that the only perfect time is now.
If you are struggling with your mental framework start by asking yourself – do you just want to spend forever dreaming, or do you want to really live this dream?
The right environment
Another key aspect is finding the right environment to work in. This includes a physical location, but also other factors such as whether you can cut yourself off from distractions.   One of the main reasons people cannot focus on their dreams is the interactions they have with those around them: friends, family and colleagues. You cannot simply cut these people out of your life, but you can negotiate with them. Don't just start working on your dream and expect people around you to understand. Make the effort to explain that the dream is important to you, it will take time, you need their support and willingness to give you space. If you can, the best solution of all is to involve them in your dream. Can they help you in achieving your dream?
Like all negotiation, you may need to give something in return. Most times though, it is possible to find a balance with those around you, as long as you make the effort to find it.   It is amazing to watch some people, who are hugely productive at work, fail time and again to make their dreams real. This is because there is a structure which gives motivation at work, which does not exist in your personal life. So, do the same!
If you cannot motivate yourself to pursue your dreams, the simplest solution is to find a motivator. That is someone around you who will nag you, chase you and remind you on a regular basis that you have made a promise. This needs to be a certain type of person – a friend who you trust, who understands the dream is important to you, and who is willing to take the time to remind you to keep working on it.
Next, work to remove distractions. You cannot effectively pursue your dream if you are constantly interrupted by phone calls, messages or your Facebook friends. When you set time aside to work on your dream, switch these all off. With some thought, it is usually possible to find regular times when you can disconnect from everyone else. If you do not believe us, just try it for a day or so. We are not saying to become completely cut off from everyone else, just disconnect for scheduled periods of time. Look at many of the great writers and artists. They tend to have a space they can work in, and when they are in it nothing else is allowed to interrupt them.
Finally, know yourself. Each of us has different preferences for how we work best and what is the ideal environment for work. For some people being able to progress requires silence, for others it requires loud rock music. Learn about yourself and your working preferences. Try to build regular schedule in a space that suits your personal needs.
The right approach
There are many books on topics such as positive thinking and personal belief. We are great believers in the powers of positive thinking, but positive thinking alone will not achieve your dreams. If you believe this, you will remain disappointed. Dreams and career ambitions require real work so you must pay attention to the third component of achieving them: using the right approach.   By the right approach we mean the steps you are going to follow to achieve your dreams. This requires careful thought. You do not have to be completely rigid, in fact we advise against an overly rigid approach. But you do need some structure: What are the steps you are going to follow? What are you going to do at each step? Which questions should you answer and when? What will the outcome of each step be? Will those specific steps really lead to your dream being achieved? What can you learn from the approach others have used in the past?
To  help you create your own approach, we wrote "Dream It, Do It, Live It!" This book teaches you how to go ahead about making your dreams a reality, in a very practical manner. We also interviewed four people about how they achieved their goals and ambitions, the problems they faced, how they solved them and what they learned along the way. Their stories are not only inspiring but also full of practical advice anyone can use to make their dreams real.
Go ahead – Make your dreams real!
If you combine the right mental framework, the right environment and the right approach, we are confident that you stand a much, much higher chance of achieving your dreams, whatever they may be.   What are you waiting for? Start! Move on from dreaming to doing, and from doing to living your dreams and goals.
About the authors
Richard Newton and Ciprian Rusen are serial authors who joined together to write the book Dream It, Do It, Live It!Wonderfully illustrated, it includes both practical advice on how to get things done as well as the real life stories of 4 people who followed their approach to achieve their dreams.There's also information on Facebook and YouTube.