In the past month I've been working with managers and directors from a large firm of accountants on how they use online networking to win clients. Naturally this has involved a deep dive into LinkedIn and how they use this 'on purpose' and effectively. I was less than impressed when LinkedIn brought out its completely new look, feel and functionality right in the middle of the project. Nothing like having to run training on a piece of software which may or may not do what you think it will do when you are training clients! Putting my gripes aside, the new LinkedIn, in my opinion, is much better than the old LinkedIn. As I was doing the individual coaching calls I had the opportunity to play around with the new LinkedIn search. I discovered it may have lost  some functionality, then regained some of it, and added some more functionality! In this blog post I wanted to highlight the new LinkedIn search capabilities. 
The newsfeed is now searchable
Now I may have been wrong, but I don't recall LinkedIn's newsfeed being searchable. It has now become searchable, which is why you are seeing posts in the newsfeed pop up with hashtags in blue on them.


To access the newsfeed you need to find the multipurpose search box. You then need to type in your search term. This can be with or without the hashtag. We found when playing around with search trying your keyword with and without hashtags, and also putting your search term of more than 1 word in "" really helped.

When you press the search button after putting in your search term you will be taken to the output of your search. You want to make sure that you have selected the post option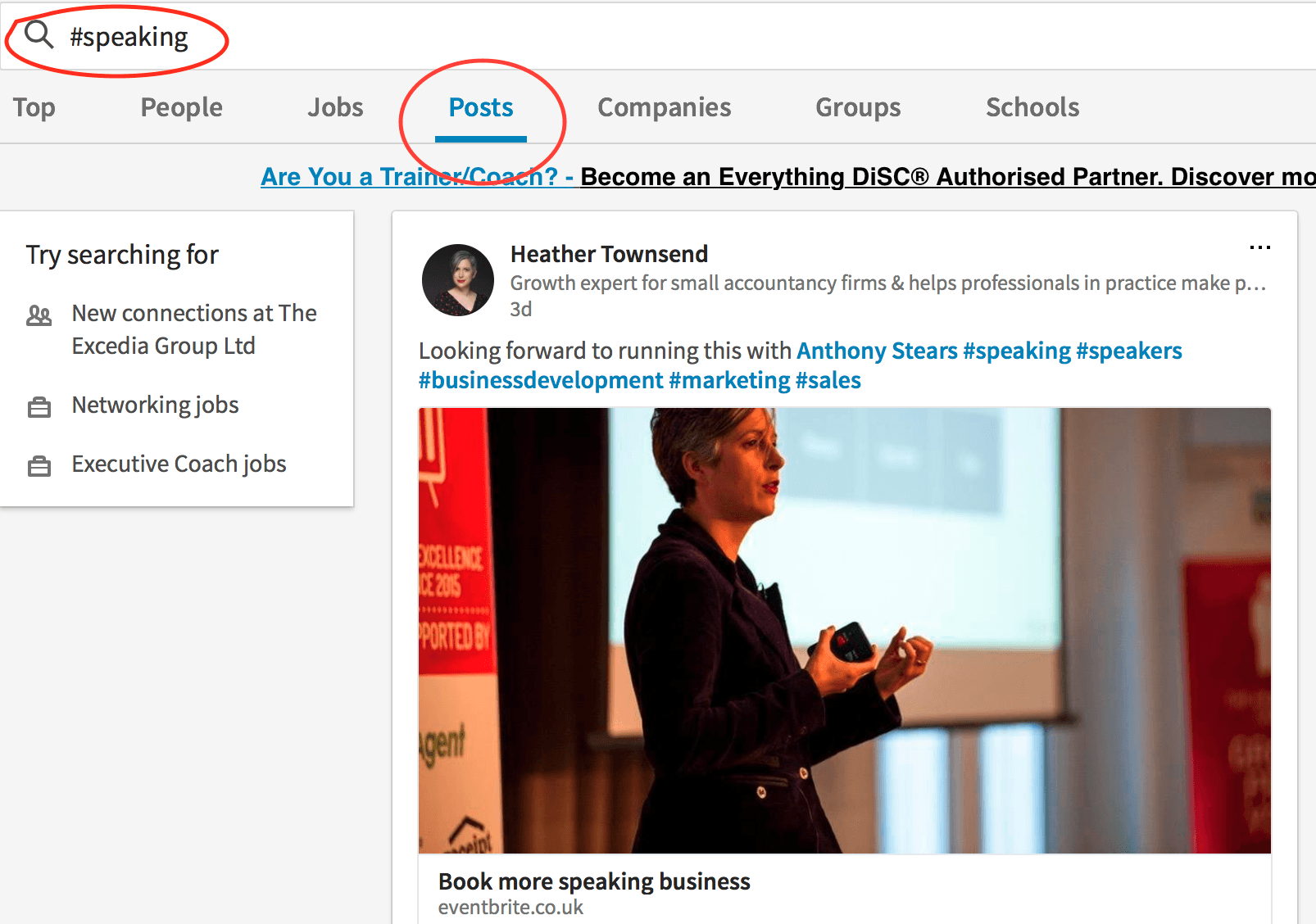 What does this mean?
You may be forgiven for thinking that this is all very nice, but what's it got to do with me. Basically the game has changed when it comes to being found on LinkedIn. Just like Instagram and Twitter, a fully searchable newsfeed will become a game changer on LinkedIn. For the following reasons:
You now have a rich stream of content to easily access from within LinkedIn without having to scroll down your newsfeed trying to find the diamond in a lot of rough.
Being found in searches on LinkedIn will be another way of building your profile with the people who are interested in your stuff.
This means when you put up a new post or share someone else's post on LinkedIn think about adding some keywords with a hashtag.
Sign up for our 2 live webinars on the 6th June:
How to win your first client (and second, third, fourth….)
How to become known as a rainmaker when you are a great technician.
Click here for more details and to sign up