Here are the rest of the 10 lessons
Click on the image to download the ebook.
You'll receive an email very shortly with a link to download the ebook. While you are waiting for it to arrive, why not buy a copy of one of our books, such as How to make partner and still have a life and The Go-To Expert, to boost your chances of successfully making it to partner?
Thanks for signing up!
Talk soon,
Heather
Poised for Partnership: How successfully move from senior associate and senior manager to partner by building a cast-iron personal and business case to make partner in any firm
Making the transition from senior employee to partner in a professional services firm is the hardest career move you will ever make. This book explains how others did it and how you can too. If you buy this book you'll learn:
Tried and tested strategies to successfully make it through partner track and the partnership admissions process to partner
How to create a cast-iron Business Case and Personal Case for partnership, even if you don't have any previous experience of selling services
How to pace yourself so you don't get burnt out on the gruelling final steps to partnership
How to find enough time to start to consistently win your own work, even if your billable time targets are sky high.
The Go-To Expert ***** 45+ Amazon 5 star reviews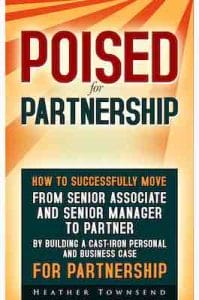 The Go-To Expert provides no-nonsense advice on managing your transition into a well-known and trusted name within your industry.
Discover:
Simple steps to build your profile
How to market and sell yourself with ease and confidence
Techniques to make your clients come to you
How to win clients
"The book is an education in itself with many practical examples based on real life professionals. It is a must for any one in a professional career that wants to get ahead."
Paul Miller, Cornish Accountants
The FT Guide To Business Networking **100+ 5 star reviews
The Financial Times Guide to Business Networking is your definitive introduction to a joined-up networking strategy that really works.
This award-winning book has now been fully updated to include new chapters on generating referrals and boosting your confidence when networking, as well as the latest advice on social networking sites.
You'll learn how to:
Successfully combine online and offline networking techniques
Develop the best networking approaches and behaviours
Make a great first impression, build rapport and generate strong business relationships
Talk to the right people, have productive conversations and effectively work a room