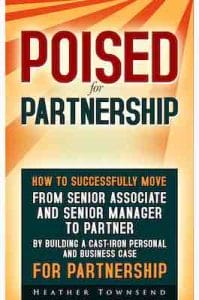 Click on this link to download your copy of Poised for Partnership. You will shortly be getting an email with the ebook as well.
If you are wanting to make partner in 2018, 2019 or 2020, how about coming on our Poised for partnership coaching programme?
This programme, which starts again in September 2017, will be your secret weapon to successfully navigate the murky waters which lie ahead for you, as you take the final step up to partner. With many firms cutting back on their learning and development programmes (and that's if they had them in the first place), it really is up to you to make your development happen.
The 'Poised For Partnership' Programme, which starts again in September 2017, will give you the structure, clarity and focus to successfully make it to partner. Of course, no-one can guarantee that you will make partner in a certain timescale, but this programme will put you back in control of your career. It will give you the confidence that you are doing all the right things to make partner at the right time for you.
This manageable 6-month programme really is a way to fast-track yourself to partner. It is based upon the methodology contained in Heather Townsend's award-winning and best-selling books, 'Poised for partnership', 'How to make partner and still have a life', 'The Go-To Expert' and 'The FT Guide To Business Networking'.
The programme will:
Answer the burning and often unanswered question, "What do I need to do to progress my career to partner around here?"
Show you how to create a cast-iron Business Case and Personal Case for partnership, even if your firm doesn't have a formally communicated Partnership Admissions Process.
Support you to pace yourself so you don't get burnt out before you have a shot at partner.
Help you to get noticed by the partners in your firm as a potential future partner.
Give you tried and tested strategies to shine and make it successfully through your partnership assessment process
Give you a competitive advantage by successfully preparing you for your partnership panel interviews and any partner assessment centre you will need to do
Clearly show you what skills, attitudes, behaviours and experience you will need to demonstrate to rapidly progress to partner.
Provide the structure and focus to ensure you can progress your career, rather than having no time for anything else than the day job.
Allow you to have peace of mind and clarity about what you need to do NOW and in the future to make it successfully to partner in 2018, 2019 or 2020.
Give you the skills to build a strong team beneath you, to whom you can confidently and reliably delegate work.